SFU Students Help Cancer Patients to Manage Pain
October 4, 2017
by VR Life
Comments Off

on SFU Students Help Cancer Patients to Manage Pain

72
Inspiration comes at very odd places and times, and the hospital bed is one of such places, as it is usually a solitary time and gets one thinking about the fragility of human health. This is exactly what was displayed by an SFU student, who was once tied to the hospital bed himself, by creating a virtual game for cancer patients.
A student from the School of Interactive Arts and Technology at the Simon Fraser University, Henry Lo, who was diagnosed with lymphoma but now happens to be cancer-free, used his experience as a cancer patient and his knowledge on technology to give back to his community. Collaborating with a fellow graduate named Janice Ng, they went on to develop a virtual reality game for cancer patients.
Farmooo: The Virtual Game for Cancer Patients
Talking about the project, Janice said that they embarked on the course as they wanted to create something for a good cause. Farmooo was created under the supervision of Dr. Diane Gromala, the director of SFU's Pain Studies Laboratory. Lo made it known in a recent statement, "Farmooo is intended to help teen cancer patients get distracted during chemotherapy treatments . . . so [that] they will focus more on the activities inside the game, rather than the medical treatment." This game was inspired by other popular online games like Farmville and Gardening Mama. What sets Farmooo apart from the rest is that this virtual reality game was especially created for cancer-stricken teens. The virtual game for cancer patients diverts the user's attention from the reality of pain to the immersive experience of the game, thus giving them a way to manage the pain they have to endure during chemotherapy.
Scroll down for the video
"Simply, Farmooo saturates patient's minds with wonderful and cheerful sensations so that their mind is less prone to painful senses," Lo added.
When the two graduates came up with the idea of a virtual game for cancer patients, they looked for a supervisor who could help them and direct them on the project. Their decision to go for courses that deal with the subject of what they were working on led them to Dr. Gromala. When Lo and Ng reached out to her, the professor saw enough spirit and enthusiasm in the students to agree to be their guide.
"I consider myself to have a rigorous screening process," Dr. Gromala said laughingly. "It was very obvious that they were talented and had a lot of personal experience to bring to the project."
Dr. Gromala noted that the Farmoo project came at an opportune time when the technology was continually growing on a daily basis. She also pointed out that the project is an excellent example of how SFU can engage students and their community through research. "This is a perfect way of giving back to the community, to help patients benefit from what they are doing. It can also inspire patients, something like this game was made by someone who survived," she added.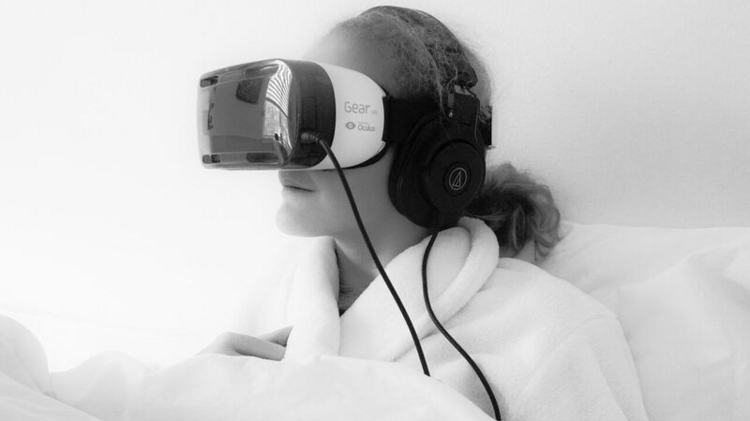 Henry Lo also hopes that the project will introduce people to other aspects of virtual reality besides gaming and the entertainment industry. Lo hopes that this technology will be used to advance the medical field too. Ng also agrees with Lo on this matter, saying, "We are currently working closely with BC Children's Hospital to get our ethics proposal done and eventually we see it being installed in the new hospital."
Lo was grateful that SFU offered him and his partner the opportunity to take up their own directed courses and come with a virtual game for cancer patients, which has now helped a number of people. The two also urged other students to do the same.
See the video below